the Art of Traveling Solo in L.A.
Prior to my most recent trip, I had a salty attitude toward L.A. The city was too much for me - at least from what I gathered the last time I visited California with my family in 2013.
Downtown seemed boring, Hollywood was bizarre, and there would be no way I could ever dream of living in the Hollywood Hills or the 90210. It seemed like a fantasy land where wannabes are en masse and dreams go to die.
I couldn't have been more wrong. Instead of having just graduated high school, I flew out to LAX for my senior spring break with a degree from Michigan State University on the horizon. At this point, my world view has changed, and so did the way I approached my solo trip on the West coast.
I stayed with my friend Kojo on USC's campus. He's a dear friend of mine who lived on my floor freshman year at MSU, and then he transferred to USC to pursue his dreams. Awesome, right? Now, living with four dudes is interesting, but that's a separate, more humorous blog post that will come your way soon. The main point here is that it was their mid-term week, and I didn't want to be in everyone's hair. No worries - I was ready to explore.
Here are some of the BEST things you can do for yourself while in L.A.
After spending five hours at this place, I have vowed to never go to a museum with another person ever again. I went at my own pace, I made friends with a security guard and an usher from Greece AND I saw a lot of cool art.
The details: I spent $10 on a student day pass, and it's worth it. There are so many exhibits and buildings to wander through. Works from Picasso, Wassily Kandinsky, Roy Lichtenstein, and Ernst Ludwig Kirschner were some of my favorites. I also spent a lot of time at the Broad exhibition, perusing through galleries filled with modern art.
Ya'll. This place rocks. Did it help that it was 75 degrees and sunny when I went? Yes. But still. Beautiful gardens, magnificent sculptures.
I got a metro day pass - the cheapest and easiest way to do it. I took the Metro from USC down to Santa Monica, and then hopped on the Big Blue Bus that dropped me off right at the entrance of the Getty Villa.
The Getty Villa is FREE, but you do have to reserve tickets online ahead of time. I did this on my phone as I got off the bus, and was lucky enough that they were still available. They also don't allow pedestrians to walk on up. You can only get to the top of the hill to the museum by car. Thankfully hey've got you covered - for free a shuttle comes and picks you up to take you to the top. I'm going to let my pictures do most of the talking for the rest.
the broad
I was super excited about this one and it did not disappoint. I argued with my uber driver about the pronunciation of "The Broad" - no it is not Brawd it's Brode. Me working at the Broad College of Business (as in Eli & Edythe, our Broad Museum, Michigan State Alum, etc.) wasn't enough to convince him. Anyways, I got super lucky and was able to see the Infinity Mirrored Room. Waiting in the standby line for 45 minutes was WORTH IT!
runyon canyon
Google it. Park at the bottom. Run/walk/crawl up it. Take pictures. Pet the dogs. Repeat as needed.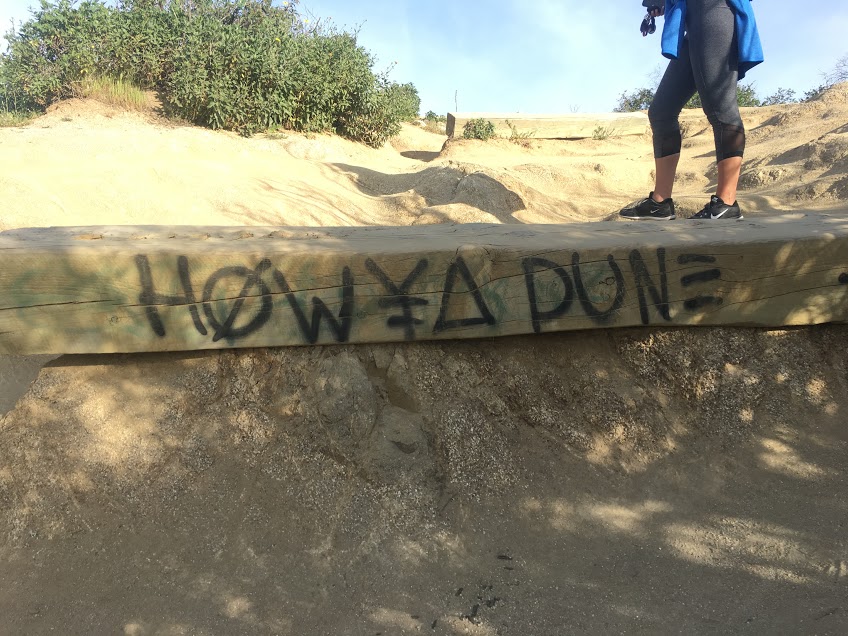 Santa Monica
This was the most convenient beach for me to get to while staying at USC. The Metro took me from campus all the way down to the pier in about 35-40 minutes. It's a bit touristy, but I love it here. And is there really anything better than watching a sunset with mountains in view? Again, see pictures.
Eats:
The Ivy Room, right on Main St. is the cutest, (most expensive place) I ate at on my trip. It was a total treat yourself moment. I was in desperate need of food, but I wanted to eat as close to the coast as possible. You'll know it when you see it below.
Bruxie: Really good chicken and waffles. 10/10 recommend. Then hit up the stores on the same strip.